Auction2000™-Online
Ett datasystem och auktionsprogram som har allt en auktionist behöver före, under och efter en auktion!
The revolutionary computer system which has all functionality you need to take your auction business to the next level.
Tanken är att Ni ska på ett lättare, snabbare och mer strukturerat sätt kunna registrera allt före, under och efter en auktion.
The idea of the system is to ease up all type of registration before, during and after an auction. Auction2000™-Online has been developed sins 1998 (24 years) and support all types of auction-cultures. Auction2000™-Online can easily be translated to ANY language in a couple of days.
Är det så att Ni behöver extrapersonal till Era auktioner bara för att anteckna och beta av alla listor efter en auktion är detta programmet för Er!
Auction2000™-Online kan användas av Er som kör vanliga "bond-auktioner", men även ni som kör "inne-auktioner" där förhandsbud och förnumrerade objekt är vanligare kan använda detta program.
Auction2000™-Online används idag i nio länder och har administrerat över 40 000 auktioner.
Ditt företag, dina kunder, dina pengar
Your company, your customers, your money
Vad är mitt företag värt vid en försäljning om jag inte har kontroll över mitt eget kund- och objekt-register?
How much is my company worth if I do not control the records of my customers and lots myself?
I Auction2000™-Online bygger du upp din egen kund- och objekt-register och blandas inte ihop med andra företag. På så sätt blir du inte ett ut- och in-lämningsställe utan bygger ditt eget varumärke och långvariga relationer med både köpare och säljare.
Using Auction2000™-Online you will be able to build your own databases and your data will not be pooled together with other auctioneers. This means that you will be able to promote your own brand as well as build lasting relationships.
För att just kunna bygga ditt eget varumärke kan du därför i Auction2000™-Online styra din egen layout såsom färger, fonter, logotyp, etc.. Layout:en är givetvis responsiv så att den funkar lika bra i en PC som i en telefon. Du kan även konfigurera dina sidor så att din egen domän används viket gör det lättare för sökmotorerna att hitta Er.
Auction2000™-Online has been designed with your own brand in mind. This means that you can control your own layout, changing colours, fonts, logos and more. All the pages are of course fully responsive so that your customers can access them using anything from phones and tables to PCs. You can also use any web domain you have already registered so that search engines will be able to find you easily.
Är du fortfarande orolig för att inte komma ut på marknaden? Inga problem, Auction2000™-Online är integrerad med de flesta portaler där du automatiskt kan publicera dina objekt.
To ensure that your lots will reach the market in a timely manner, Auction2000™-Online has integrated with the majority of autioneering portals. This allows you to automatically post all your lots without any hassle.
Observera att Arctic Support INTE bedriver någon egen auktionsverksamhet och är inte heller knyten till specifika portaler eller andra externa leverantörer. Vi har därför ingen dold agenda eller på annat sätt önskan att tjänar pengar på Er verksamhets utveckling.
Vi är en systemleverantör!
Please note that we at Arctic Support do not conduct any auctioneering business ourselves and do not have any exclusive contracts with portals or other third parties. This means that we can focus on providing you with the best auctioneering tools available without limiting your options.
Teknik
Technology
Nya Auction2000™-Online är en SaaS (Software-as-a-Service) lösning vilket innebär att Arctic Support kommer att fungera som en ASP (Application Service Provider) och leverera IT-tjänsten som en hyrtjänst för våra kunder.
På ren "Svenska" innebär det att;
New Auction2000™-Online is a SaaS (Software-as-a-Service) solution, which means that the Arctic Support will act as an ASP (Application Service Provider) and provides IT services as a rental-service for our customers.
This means;
Vi sköter driften och underhållet.
Ni sköter auktionerna.
We manage and maintenance the system.
You manage the auctions.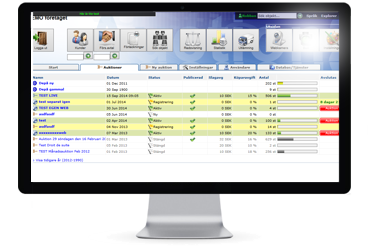 Vi har arbetat med Auction2000 både i gamla och nya versionen och är mycket nöjda. Med närheten (nära kontakt med utvecklarna) och snabbheten. Vilket gör att vi känner oss mycket trygga med Arctic support.
We have worked with Auction2000 both the old and new version and are very satisfied. Close contact to the developers makes us feel very confident with Arctic Support.
Erik Mittag-Leffler, LP FOTO AUKTIONER